I have a friend who is experiencing a really challenging period just now. She has been referring to this as her valley season and I really wanted to address this.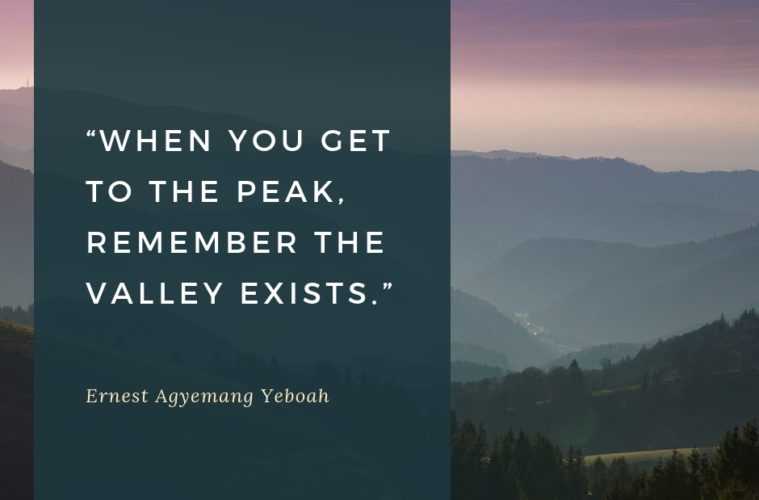 I have often focused on getting up the mountain, but I have also recognized that once you get their invariably you may need to climb another. However, before you reach the mountain, you will need to be in the valley. I also believe that in order to get to the other mountains you have to go through the valleys in between . A climb begins on the flat and not at the top, so to conquer the various mountains waiting for us we have to accept that we have to go through the valley, which is difficult, dry and sometimes seemingly lonely – but only if we choose to go it alone.
Yea though I walk through the Valley of the shadow of death I will fear no evil…

Psalm 23:4
One of things I really admire about my friend as she goes through this period is her faith. She jokes about it and laughs it off, but she never displays anger or frustration at what is happening. Instead she has faith that God will sustain her and strengthen her in this challenging season.
I remember that I was less optimistic in most of my valley experiences. I cried, I complained, I made bargains with God and threatened to give up. However, I was still hopeful, I still wanted to believe that God would pity me and help me. And I always came through those periods grateful. I survived all of them. Despite all my hysterics, God had seen me through.
In those difficult times I sometimes would think about the experiences of Shadrach, Meshach and Abednego, and the fact that they stood in the midst fiery furnace and triumphed. It is the reminder that we can conquer anything if our faith is strong and we remain true to who we are. Though they were condemned, they refused to compromise their beliefs and refused to change for anyone. When we experience our valley season we need to do the same. Being in the valley is a temporary situation, one from which we can gather much wisdom and come out on the other side, having learned a little more of how powerful we are with God's support.
If we refuse to bow to the oppressive nature of our valley experience then we will indeed be victorious.
So the valley can teach us a lot. Maybe we need to look at it differently; it is not a place where we go to die but a place to realize how alive we are and how much we have to live for. It can teach us how to value what we have for the time we have it. Also, sometimes we are allowed to be in the valley because God is waiting to give us the best of what he has in store for us. We first have to prove that we are ready for it.
It takes courage to be in the valley; it takes faith, humility and wisdom to make your way out.
 for thou art with me; thy rod and thy staff they comfort me.

Psalm 23: 4