Imagine if you lost everything you thought you could never live without.
That is a terrifying thought for many of us, but what if we did? What would we do?
It's easy to look at someone who is not okay and give them advice on what they need to do. Then we think or talk out of their hearing: "man that is rough, but, thank God it's not me!"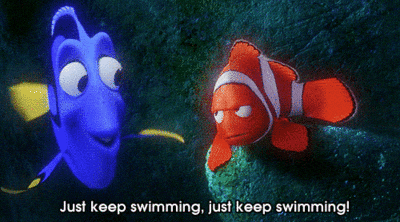 Now, my issue with such a sentiment is this, does God allow good things happen to some and bad things to others? Sometimes when we say the above, it seems as if we are somehow exempt from going through certain trials, but we are not.
I spoke recently to a colleague and former teacher, who is undergoing cancer treatment. I had not seen her at work for some time and then I saw her back out at work and though she had lost some weight, she seemed so calm and was laughing and smiling and it made me pause and think about how I overreact to some simple things at time. After all she has been through lately where did she find the courage to get up and live each day as it comes?
As she pointed out to me, it is not easy but, she does it because the alternative is death.
I am realizing that the problems I see as insurmountable or really not impossible to overcome. I am in the process of reconstructing my mindset about the outlook I have concerning every situation I am faced with. If I can be devastated at the thought of someone else's diagnosis and surprised by her ability to get up every day and smile and be pleasant then maybe I need to change how I view my own problems. Are they really that serious or require the reaction I sometimes have?
Would I be okay if I lost all the things I fear losing, that have nothing to do with the life I have been given by God.
I remember a point, as I got older, that I feared losing my grandmother, and so I use to pray every year that she would life one more year and that God would make it ten or twenty years – or forever if he could. It has been 15 years since my grandmother died and I still have not forgotten how important she was in my life. Since then, I have made some terrible decisions and some good one, but the most important thing is that I have been able to continue to live.
An article I recently read entitled, In Haiti, the Art of Resilience, comes to mind. The article was written in 2010 by Bill Brubaker, after the earthquake which devastated the country and killed 230,000 and displaced approximately 1.5 million others. The writer highlighted a series of stories concerning the impact of the earthquake on the Art community. One that stood out to me was about 87-year-old Haitian artist, Préfète Duffaut who lost family members, friends, his home, and most of his art work. What was so inspiring about his interview was the hope that Brubaker noted was, "shining from his eyes". The hope to build from the rubble something new and vital. There were other stories of gallery owners – whose galleries had not escaped the devastation – who provided money and art supplies to artists who had lost everything. Duffaut at 87, having experienced crisis after crisis in Haiti, along with his country men and women, was able to affirm of this particular event: "my future paintings will be inspired by this tragedy". How many of us would be able to create something meaningful and inspiring from the rubble of our own tragedies?
We all have the potential to take ourselves out of the dark abyss that life places us in. All we need is to cultivate is a vision of possibilities in the face of adversities.
Though it may be hard for us to keep the faith when things go south, real quick; it will be okay. Just keep telling yourself this, until you believe it.
Like many Haitians, let us adopt their attitude when faced with difficulties:  'Let's get on with it! Tomorrow is another day.'