I can feel the sweat pouring down my face. Or is it my blood. I know there is a metallic taste in my mouth that no a mount of mouth wash or toothpaste can dislodge. I feel my heart trying to escape my chest but the bars of its cell keeps it at bay. There is a sharp ringing pounding me and I don't know if it is within or outside. All I know is I cannot stop. I must no fail…
Though go blind and the world disappears I know this road like the back of my hand. I do not need to see where I am going, because I know what I have to do. But then again a loosening of the earth nearly becomes my undoing as I am drawn tighter than any string in any bow. When I thought I have recovered from the mishap of nearly falling then macka juk mi and nearly kill mi. Yet still I am too tough to be defeated so easily by this spear of the soil; it becomes a part of me like osmosis.
Though the spear and sword and shield and helmet and shoes and bag and, God knows what else was too much, what I have is enough; just me nothing else but God. Even when confusion comes to mix mi up and twist mi round, I will not stand still, frozen in fear of the what ifs.
Though small, I'll be large and wide and deep to take on anything that thinks I can be contained in its small shortsightedness. I'll grow in a moment to heights unheard of, a wonder yet unseen.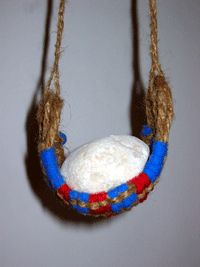 And when each time I stand before this enemy that has become my shadow I will not hesitate to let loose a hailstone of the power within. And I will make sure that when the curtain is lifted I will be the last one standing.